Blended Spaces: The Future of Work
Explore blended spaces for remote work and how Dauphin's ergonomic seating options can help your employees stay comfortable and productive.
---
Blended spaces are becoming increasingly popular among businesses as they provide a unique opportunity to optimize productivity and work-life balance. By combining the comfort and flexibility of remote work with the collaborative benefits of a traditional office, these spaces are designed to promote creativity, efficiency, and employee well-being.

Research shows that the design of physical spaces can significantly impact the way people think and feel. Blended spaces, in particular, are informed by design psychology, which emphasizes the importance of creating environments that promote positive emotions, reduce stress, and encourage collaboration. According to a study by Gensler, great workplace design can improve creativity and drive innovation
Dauphin's Ergonomic Seating Solutions Can Help

Dauphin HumanDesign® Group specializes in designing seating solutions that prioritize physical and mental well-being through ergonomic design. The range of seating options is tailored to different markets—including remote work setups— and is designed to enhance user comfort and productivity.
Improve Posture and Reduce Physical Pain
Sitting for long periods can be uncomfortable and cause physical strain, which in turn affects productivity and overall well-being. To address this issue, adjustable height options are available, allowing users to customize their seating position and reduce physical strain for improved posture.
Breathable Materials Increase Comfort
Prolonged hours at a desk can lead to discomfort and negatively impact productivity. The range of seating options from Dauphin feature breathable materials that enhance user comfort, allowing remote workers to stay focused and productive during extended work periods.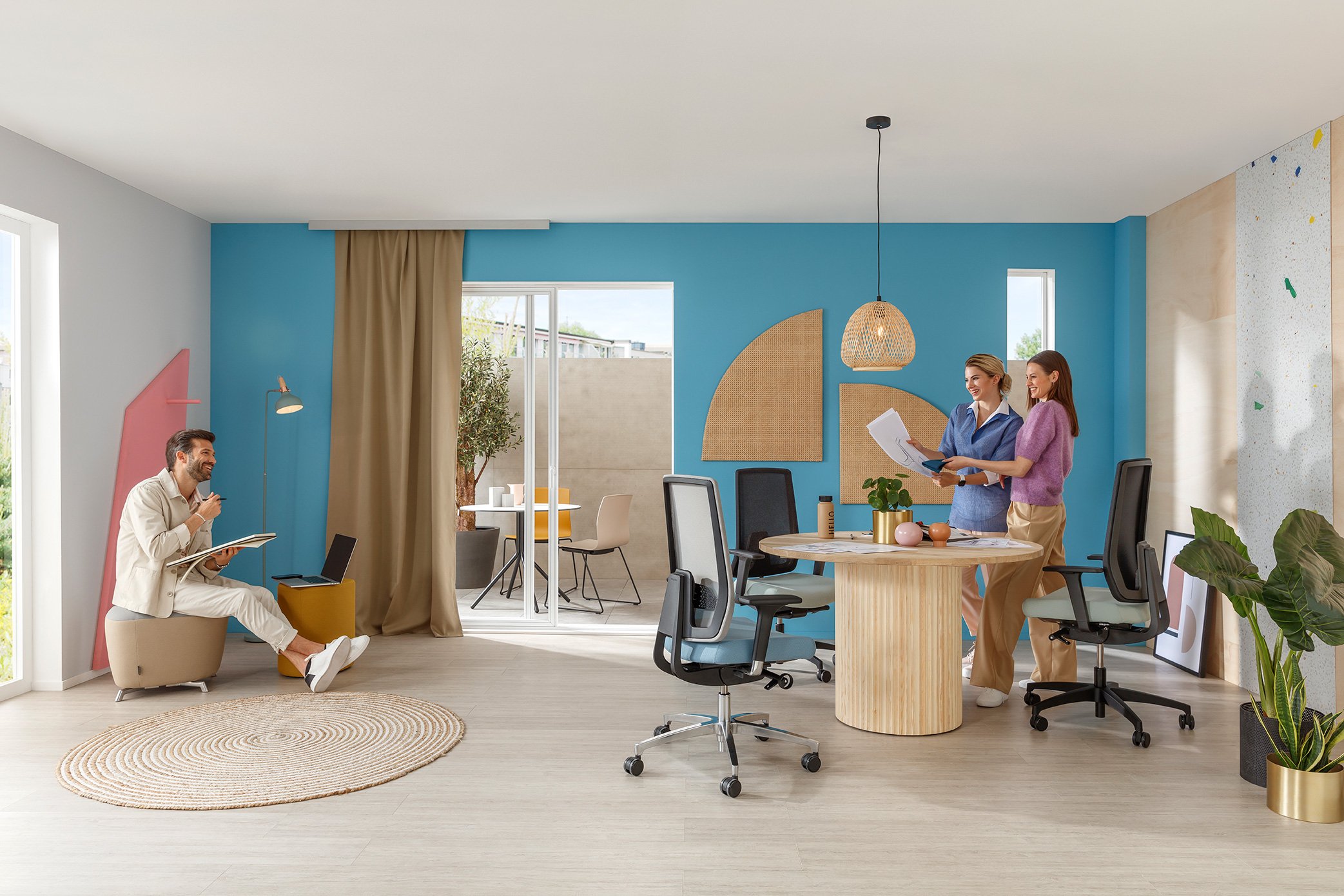 Multiple Customization Options Fit Individual Preferences and Workspace Needs
Each person's workspace needs are unique, and what works for one may not work for another. That's why the seating options from Dauphin come with multiple customization options to meet individual preferences and workspace requirements. With the range of seating solutions, remote workers can get excited to return to the office, finding the right fit for their workspace, and staying comfortable and productive throughout the workday.
A Refreshed Workspace
With the ideal blended space in mind, Dauphin is proud to introduce our Lounge Vibes Collection–an innovative approach to create a comfortable and flexible workspace. Focusing on aesthetics, functionality, and ergonomics, the collection features a range of seating options, including sofas, lounge chairs, and ottomans, designed to promote relaxation, socialization, and productivity. Collaborate, relax, or work independently in style. The Lounge Vibes collection has everything you need to create a comfortable and functional workspace
See Our Lounge Vibes Collection
Blended spaces provide a unique opportunity to combine the best of remote work and traditional office settings to optimize productivity, work-life balance, and employee well-being. Research shows that the physical characteristics of the workplace can impact health and consequently related aspects of work behavior.
Atelier