The Ultimate Guide To Choosing The Perfect Curved Lounge Furniture
The ultimate guide to curved lounge furniture: Discover how to create adaptable workspaces and express your brand with visually appealing and comfortable structures.
---
Why Curves Are Needed In The Workspace
In a post-pandemic world, the desire for safe and comfortable spaces has grown, as more organizations seek to create blended workspaces for their employees. Curved furniture was a popular trend before COVID-19, but now curves are taking over—and the research backs up why.
Architectural studies, including one most notably by Oshin Vartanian and his colleagues in 2013, found people were more likely to find curvy spaces more inviting than angular ones. Curves activate a brain region called the anterior cingulate cortex, which is linked to emotions and rewards. This means that people generally feel good when they see curves, as research suggests.
Now more than ever, people have a heightened need for that good feeling, a sense of comfort, almost like a security blanket, as they move back into the workspace. As our personal and work lives continue to overlap, there's a growing desire for workspaces that feel less formal and more inviting.
The Psychology Behind Curves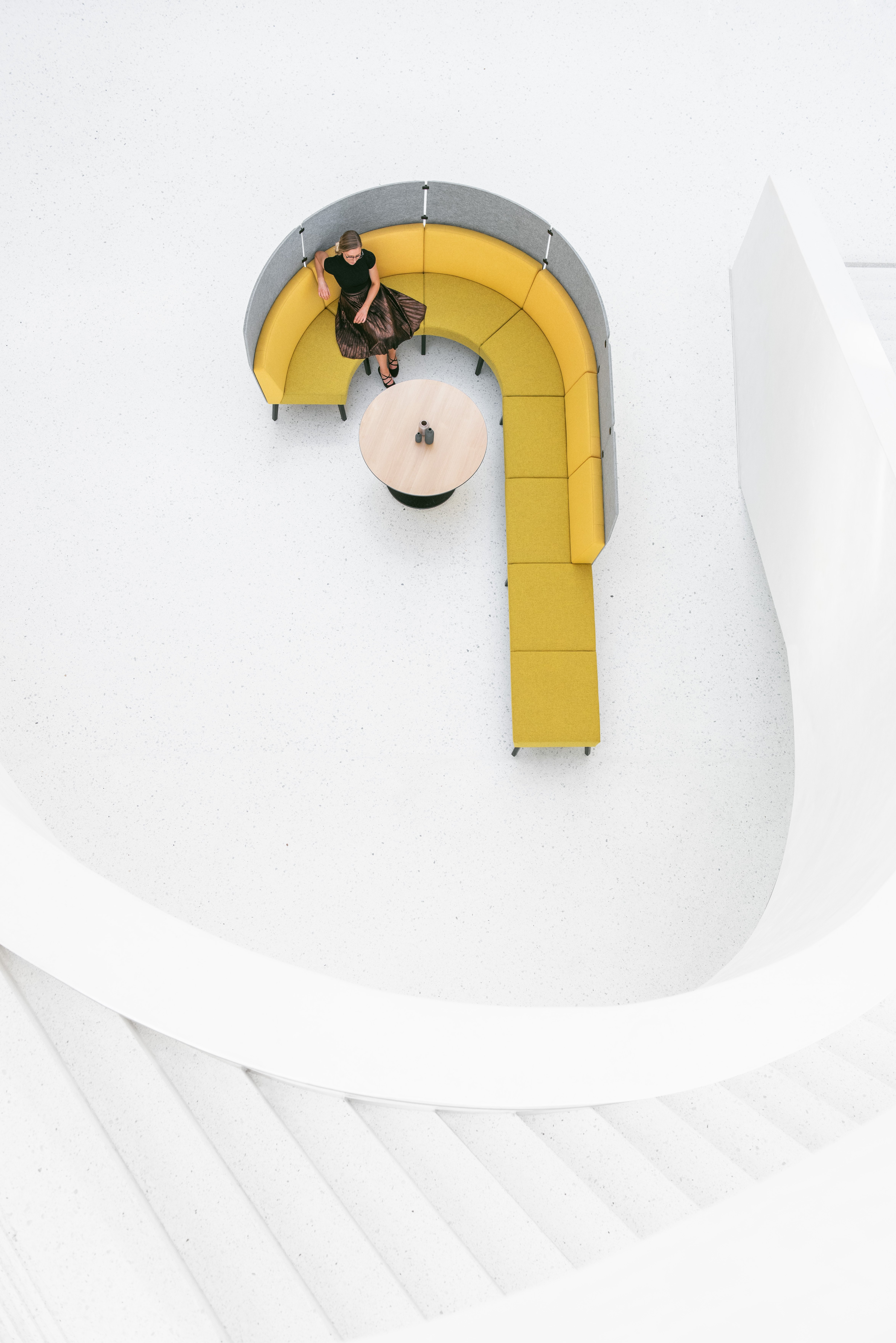 Office spaces need to be softer and more inviting, offer a space to relax, and evoke a sense of fun that inspires productivity, creativity, and ensures mental wellbeing. They also need to adapt to ongoing changes and needs of the business and those who work in it.
Psychologically, curves speak to smooth lines, safety, and calm, and counteract the usual hard lines that are experienced in boxy spaces. According to Paul Silvia, a psychology professor at the University of North Carolina, people's preference for curves may be due to their association with natural surroundings. Curved buildings are reminiscent of nature, which can bring a sense of tranquility and attract our attention. In contrast, angular buildings can be jarring to our senses.
Dauphin's Curved Lounge Furniture For Your Space At Dauphin we use a research-based design approach to create flexible solutions for office spaces with endless layout possibilities. Our custom Collaborative Lounge collection offers seating options that enhance privacy and focus, while also optimizing socialization.
Dauphin's Reefs Collaborative Lounge collection has evolved, with the needs of humans at its forefront. Our concept is HumanDesign™ for, and with, people.
The fluid silhouettes from the range of curved options in this line offer an infinite variety of colors and textures that soften and add brightness to your workspaces. The pieces blend perfectly to create spaces that are beautiful, functional, and practical.
Ergonomically-designed work environments that are adaptable promote productivity and collaboration. These options are designed with purpose—to look good and feel great.
Collaborative Spaces: Our Reefs Collection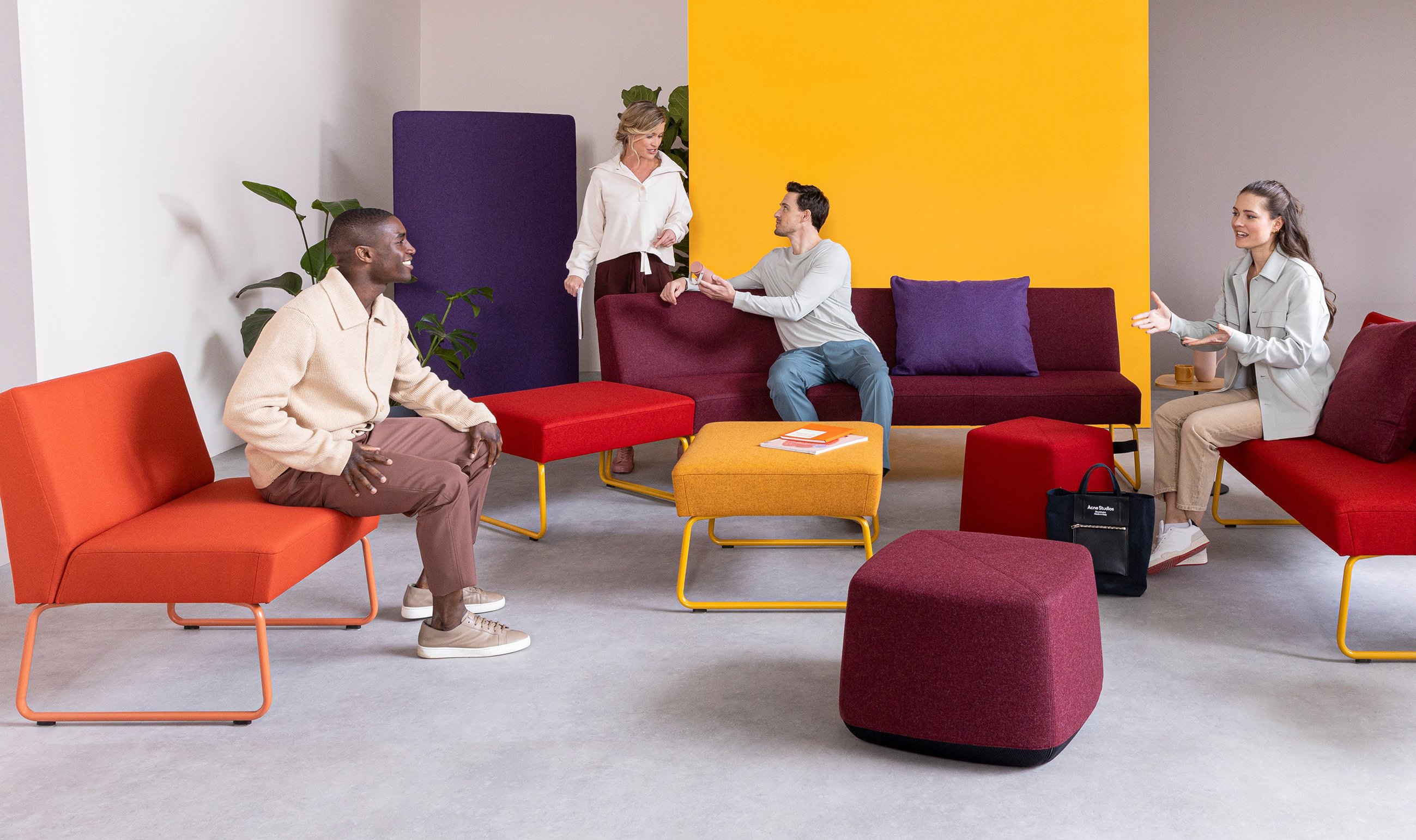 Our Reefs Collection offers the opportunity to mix and match connectable curve (and straight) pieces— in colors and textures that reflect your brand and personality—for interest, fun, and inspiration. Key features of our Reefs Collection include:
A wide range of different upholstery colors and materials for seats, backs, and arms.
Single-module curved pieces that adapt to your space seamlessly, and with limitless combinations.
Supple steel trusses that support every Reefs piece to ensure the system is lightweight and durable.
Collaborative acoustic privacy screens in a neutral dolphin gray, which attach to the backs and sides of your interchangeable seating to provide quiet, private workspaces
Optional inset tables and power modules to create perfect nooks and collaborative corners
Products which are 100% free of hazardous substances – meaning, no PVC, chrome VI, lead, or mercury – and with over 50% recycled materials creating our Reef line. Sustainability is a focus in our entire process.

At Dauphin, we pride ourselves on offering curved lounge furniture that not only looks great but also promotes productivity and collaboration. Our versatile designs accommodate various activities and provide flexibility in the workspace. In addition to the modern style, curved furniture is comfortable, making it a must-have for modern office design. Learn more about our curved lounge furniture and its positive impact on people and productivity. Schedule a design consultation with a Dauphin Sales Representative today.

Choose from our two distinct Reefs Lounge seating collections, each with its own unique benefits. The Reefs One collection offers stylish and comfortable seating that is part of our Safe Reefs initiative, supporting the restoration and protection of coral reefs around the world. Enhanced visual aesthetics with standard black powder coat, or optional oak legs. By choosing Reefs One, you're not only elevating your space but also contributing to a more sustainable future for our planet. Meanwhile, the Reefs Flex collection offers a playful take on lounge seating, with a modular design and vibrant colors, perfect for creating a chill-out zone in your office, a welcoming reception area, or a stylish lounge to prompt social interactions in the office. A quick-click gangable system allows for an easy and tool-less connectivity to enable instant, effortless adaptability for multi-functional, unique workspaces. Discover more about each collection and find the perfect fit for your needs and style.
References
Adams, William Lee. "Do These Buildings Turn You on? the Strange Psychology of Curvy Architecture." CNN. Cable News Network, November 26, 2013. https://www.cnn.com/2013/11/26/world/do-these-buildings-turn-you-on/index.html.
Dauphin Americas Feb 14, and Dauphin Americas. "Overcoming Sustainability Roadblocks." Dauphin, January 7, 2022. https://blog.dauphin.com/en/overcoming-sustainability-roadblocks.
"Impact of Contour on Aesthetic Judgments and Approach-Avoidance ... - PNAS." Accessed March 29, 2023. https://www.pnas.org/doi/10.1073/pnas.1301227110.